GS Class Diagram Standard
From BRL-CAD
| | |
| --- | --- |
| | This page contains the design document for an enhancement or feature. The design should be considered a work in progress and may not represent the final design. As this is a collaborative design, contributions and participation from other developers and users is encouraged. Use the discussion page for providing comments and suggestions. |
---
Notes on Class Diagrams
[
edit
]
Once Use Cases have initially been grouped together, then Classes need to be identified.
Categorize classes into entity, boundary, or control.

Entity classes contain long term data.
Boundary classes interface with actors.
Control classes encapsulate a use case's behavior.
Class Diagram Legend
[
edit
]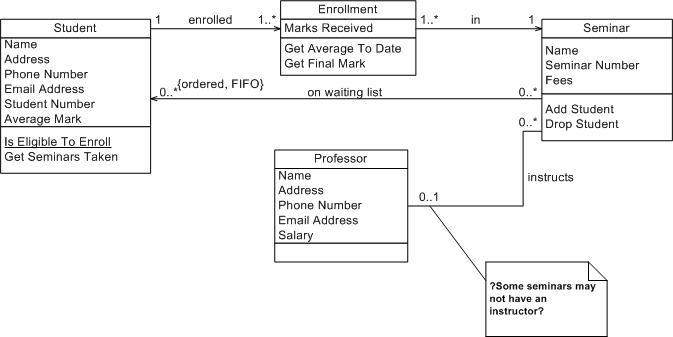 Classes are drawn as boxes with 3 divisions:

(top)Class name
(mid)Attributes (or members, or fields)
(bottom)Methods (or functions)

Arrows between Classes indicate an association

Numbers on each end of the line indicate Multiplicity.

Example: The line between Student and Enrollment has a 1 on the student side and a 1..* on the Enrollment side. This simply means that 1 Student Object can have 1 to inifinite amound of Enrollment objects. Read the other way, it means that any of many Enrollment objects can only have 1 Student object each.

The direction of the arrow indicates 'knowledge of.'

Example: Student has knowledge of Enrollment but Enrollment objects have no knowledge of Student objects.

Text descriptions written on the Arrow help add understanding to the association.

Example: A Student is enrolled, via an Enrollment object, in a Seminar.